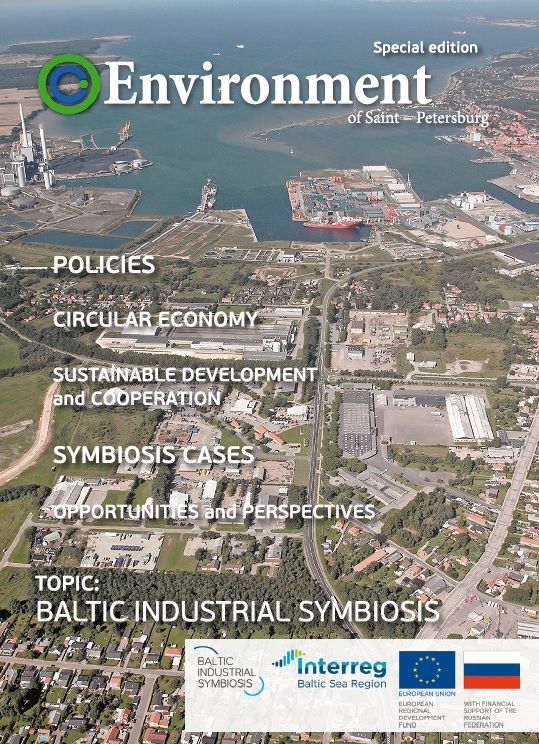 This special edition has been prepared with the financial support № R # 082 "Baltic Industrial Symbiosis" project of the Interreg Baltic Sea Region Programme". Special edition is devoted to the development of industrial symbiosis and circular economy in the Baltic Sea region. A special edition was prepared based
on materials provided by the authors. Responsibility for the content and accuracy of the materials are authors.
Content:
CBSS' work on sustainable development of the Baltic Sea Region
About Baltic Industrial Symbiosis
Mapping current policies supporting industrial symbiosis development the Baltic Sea region
Circular Economy: possible reality or unattainable future?
Kalundborg Symbiosis.
Industrial symbiosis - a short note on facilitation and capacity building.
Initiatives of the international consortium «Saint-Petersburg Cleantech Cluster for urban environment» for sustainable development in a context of circular economy.
Cata3Pult - the Finnish-Russian public-private partnership catalyzing new green business.
Denmark: Municipalities can be front runners in sustainable growth.
Municipal Initiatives: Technologies in the Service of Ecology/
INTERVIEW:
First steps forward to symbiotic chains.
Medical wastes – neutralized. Garbage – double cut.
Living lab – Here the industrial symbiosis' products are born.
SYMBIOSIS CASES:
Development of Commercial Fish Farming in the Republic of Karelia
Pskov Region: Economy and Ecology in Rapport
Millions to manure for fast-growing forests
Farm and biogas plant: cooperation experience in Finland
Symbiosis of economy and ecology in woodworking
OPPORTUNITIES AND PERSPECTIVES:
New business opportunities in the field of biotechnology and circular economy within the framework of the crossborder cooperation program "South-East Finland – Russia 2014 - 2020»
TIRES – Problem waste or energy source?
«GREEN» logistics as a trend of development of industrial symbiosis in the transport complex of a large city
(on the example of Saint-Peterburg).
Innovative Technologies for the Organic Waste Management.
ANNOUNCEMENT:
ROADSHOW and Peer to Peer exchange of the Baltic Industrial Symbiosis in Russia.